FULL INFORMATION about upcoming PRE-ORDER of our NEW LIMITED EDITION *FULL BODY KIT*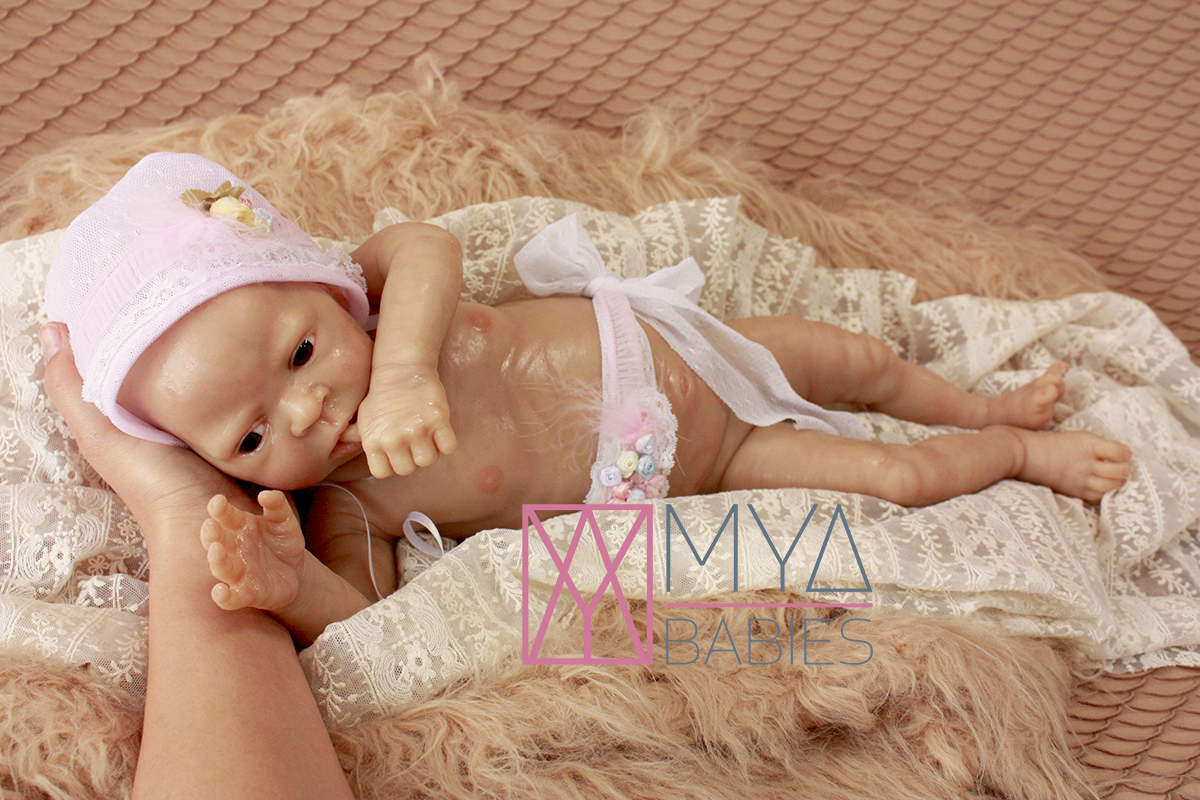 We want to thank you all for your patience awaiting for the complete information! Please read all completely and if you have any further question, EMAIL US TO: info@myababies.com / SUBJECT: PRE-ORDER. Thank you!
(((Kits are sold unpainted with inserted glass eyes)))
---
ABOUT PRE-ORDER
*** The Limited Edition of this gorgeous kit is ONLY 40 KITS WORLDWIDE plus one Prototype and two Artist Proofs***
IMPORTANT! The Edition will be runing in 4 PRE-ORDERS (if molds allows to) in different dates (THIS UPCOMING WILL BE THE SECOND PREORDER). And in each PREORDER there will be only 10 kits availables. Why this??? Because this will allow us to producing the kits step by step and make sure the quality is allways excellent. So THE NEXT PREORDER will be when we finish producing the first 10 kits (from 1 to 2 months) BE PENDIENT TO NOT MISS ANY OF THEM. WE WILL WARN IN ADVANCE...So You can subscribe to our website to not miss it and be reminded:
click hehe togo subscribe to list
---
*** WHEN PRE-ORDER IS MADE ***
We will contact to the customers who realized the PRE-ORDER. Then they will can choose:
* Boy or Girl baby gender
* Eye glass color (Blue, brown, green)
* (yes/no) Extra pee system (With this system the baby takes bottle and pees!)
* About rest payment, in full before shipping or layaway (read more about layaway below)
---
BABY FULL DESCRIPTION
This is an Special Silicone KIT, made with the most high quality production and materials. Only for the anatomy modeling took us almost 5 months! We do our best to try to improve in each new creation. We created this baby with much love and happiness for all of you! <3 Please, read all the information below. THANK YOU!
* Silicone KITS are full one unic piece, and nothing is glued!
* NO mold seams
* SPECTACULAR ANATOMY DETAILS MODELED!!! Fully of wrinkles, long nice nails, with a real correct and proportioned HYPER REALISTIC anatomy. Has a GORGEOUS INNER MOUTH with INDEPENDIENT TONGUE AND HANGING UVULA!!!
* All KITS will be poured with Platinum Silicone High Quality, Ecoflex 20, to be soft and flexible. Will have our personal tone base color formula to have a great base color to paint over it! (as the same as our other kits you can find availables at our website)
* Eyes: Are open and kits will go home with inserted eyes (color by client choice: blue, green or brown)
* Hands: One is open and the other is closed with one finger to allow baby suck it
* Size: 20" (50 cm)
* Head Circumference: 12,99 inch (33 cm)
* Weigh (aproximately): 7,15 LB
---
***

WILL GO HOME WITH

***
COA (Numered Certificate Of Authenticity)
Care Guide
Accessorie Gift
---
ABOUT PRICE AND PAYMENT

PREORDER AMOUNT: 450 EUR

(EUROS)
TOTAL PRICE:

1.754,50

/

1.450 EUR
(Euros)
Plus shipping
You will can add pee system (Baby takes bottle and pees) for extra 200 EUR (Euros)
(((Read below for layaway payment)))
We will contact to the persons that get to perform the preorder just to agree all details and payment method. The rest of the amount will can be paid IN FULL bebore shipping (in one month since PRE-ORDER aprox) or by LAYAWAY by monthly payments on this way:
* IF CHOOSE NO PEE SYSTEM 250 EUR (Euros) each month (during 4 months after preorder) plus shipping last month.
*IF CHOOSE WITH PEE SYSTEM 250 EUR (Euros) each month after preorder (during 4 months + 200 EUR the 5th month plus shipping).
---
(The 450 EUR amount is part from the total amount, as a DEPOSIT non refundable).
***Note prices are in (EUR) EUROS and payment will be in Euros*** Anyway, if you need to make yourself an idea of how much are the amounts in your currency, you can use this currency converter: www.themoneyconverter.com
*** Payments will can be made by Paypal with your paypal account or credit card, and also by Bank transfer
*** Note that the kits will be sent only once are full paid
*** Payments are NON REFUNDABLES. We will be working in personal orders (according to the client liking and choices), so no refund in any payment.
*** NOTE After PREORDER, payments must be done in the beginning each month 1th-5th or an exact same date agreed by both parties. In case of non paying in two months (consecutive or not) the order will be canceled with NO payments refund